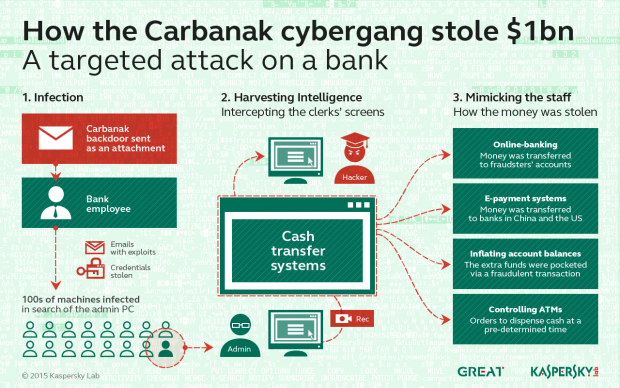 A group of hackers called Carbanak stole about $1 billion from the accounts of several banks and financial sector companies around the world from 2013 to the present, in a unprecedented banking hack, said the cyber security company from Russia, Kaspersky Lab.
The group, called "Carbanak" by the experts from Kaspersky, is still active and its members came from Russia, Ukraine and other countries in Europe and in China, according to Bloomberg.
Attackers targeted approximately 100 banks and financial institutions in more than 30 countries, including the United States, China and several European countries, stealing up to $10 million in each action.
The Carbanak hacking group members infected victim's employees computers with the Carbanak malware, which extends to the internal network of the respective companies, allowing attackers to surveil the employees. In this way, the group members imitated employee activities, being able to transfer money, said experts from Kaspersky Lab.
Also, due to the internal network access to a bank, the attackers took control of ATMs, cash withdrawals on the program at certain times, while one of the hacking group members raised money from the device.
The security firm Kaspersky has worked with Interpol, Europol and other authorities to discover attacks of the Carbanak hackers group.