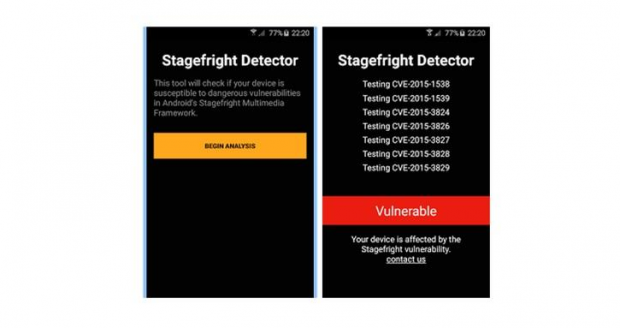 Stagefright is the worst nightmare that an Android owner can have. This is the android vulnerability discovered by Joshua J. Drake, from the Zimperium Mobile Security. I described this android vulnerability in an earlier post, called Critical Android phones Vulnerability.
Stagefright spreads via MMS and once it get into the Android system manages to take hold. Basically your phone is a device remotely controlled by a hacker with "good" intentions. This vulnerability target 95% of Android devices, which is almost 1 billion devices, quite a lot.
The Stagefight mobile security app manages to identify the infected files, and later suggests some fixing solutions for the problem.
You can download the application from Google Play: https://play.google.com/store/apps/details?id=com.zimperium.stagefrightdetector, it is called: Stagefright Detector App.
The Stagefight Detector App is developed by Zimperium, the Mobile Security Company which first discovered this android vulnerability.
Zimperium released a blog article called How to Protect from StageFright Vulnerability. We recommend you to read it, it will surely help in preventing future vulnerabilities.
So, Are You Vulnerable to Android Stagefright? See the video below: