Yahoo acquired Blink, a mobile messaging application that lets users to share self-destructing messages. Blink is a competitor of SnapChat.
Blink is a product of Meh Labs, a company founded by ex-Googler Kevin Stephens and Michelle Norgan. Blink's users are able to text and share photos, videos, voice and more, with individuals or groups. The messages' visibility could be time controlled, so users can set how long they could be read or viewed after the message is sent.
After announcing it's arrival on Android, Blink reported to have around 100 000 downloads to date. The main market is the United States, followed by the Middle East.
Blink announced its purchase by Yahoo on their website:
We're excited to announce that as of May 13, 2014, Blink is joining Yahoo! We built Blink because we believe everyone should be free to show the same honesty and spontaneity in their online conversations as they can in person. We look forward to the possibilities that will come from bringing the Blink vision to Yahoo.

We can't begin to express how grateful we are for your support throughout this journey. We hope you stick with us through the next chapter.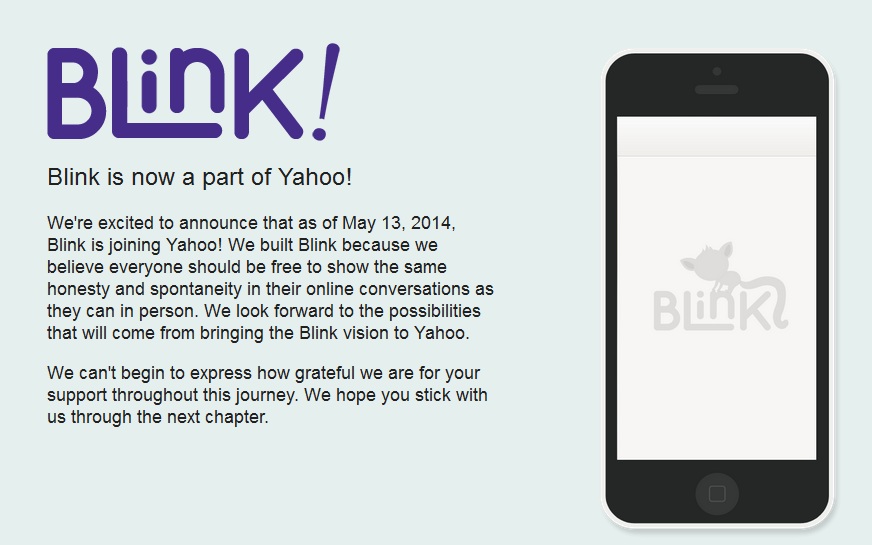 Terms of the deal were not disclosed. But is known that Yahoo acquired 40 start-ups since chief executive Marissa Mayer took over two years ago in an attempt to revamp the internet company.
These are good news for Yahoo fans, but soon, the Blink messaging application will disappear, so, download it before it will be removed.
Blink messaging app for Iphone is available here: https://itunes.apple.com/us/app/blink-messenger-expiring-private/id637412048?mt=8
Blink messaging app for Android is available here: https://play.google.com/store/apps/details?id=com.mehlabs.blink