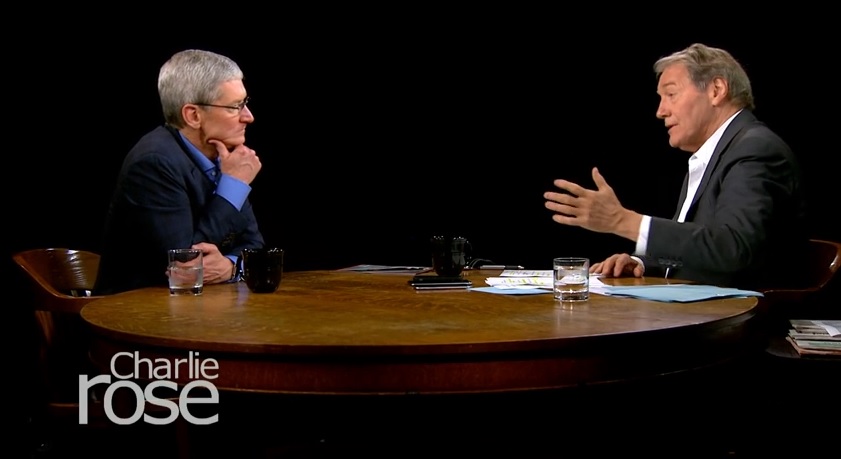 Apple CEO Tim Cook talks about consumer privacy, data, and Apple Pay in an exclusive two-part interview. The second part airs September 15, 2014 on CHARLIE ROSE. For more, visit www.charlierose.com
Below you can see some of Tim Cook's opinions regarding the iCloud selfie scandal and also some comments related to Apple's defense of the security of its iMessage messaging platform in the wake of NSA revelations:
And we'll reach higher and higher levels of urgency as more and more incidents happen. I think that the, for us, in the Snowden thing, just to go along on that for just a moment. What we wanted, was, we wanted instantly to be totally transparent because there were rumors and things being written in the press that people had backdoors to our servers. None of that is true, zero. We would never allow that to happen. They would have to cart us out in a box before we would do that. It's, if we ever get information, and we finally got an agreement from the administration to release how many times we had national security orders on Apple. And in a six month period, and we had to release a range, because they won't let us say the exact number, it's between zero and 250. That's the lowest number you can quote. Zero to 250.
About Charlie Rose
Emmy award winning journalist Charlie Rose has been praised as "one of America's premier interviewers." He is the host of Charlie Rose, the nightly PBS program that engages America's best thinkers, writers, politicians, athletes, entertainers, business leaders, scientists and other newsmakers. USA Today calls Charlie Rose, "TV's most addictive talk show." New York Newsday says, "Charlie's show is the place to get engaging, literate conversation… Bluntly, he is the best interviewer around today."
Source:
Related Security News:
Aple improves iCloud security after Celebrity Hack, Tim Cook's opinion regarding the security breach
iCloud hacked, Dozens of nude photos with Jennifer Lawrence were stolen