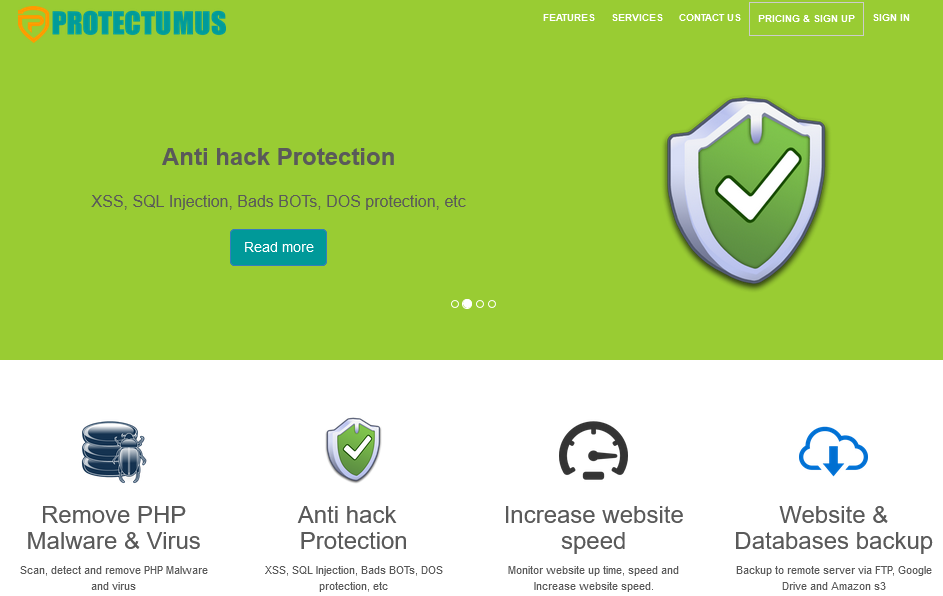 Protectumus is a Website Security & Performance provider that combines AI and Machine Learning to detect attacks, protect against malware and recover in case of being hacked.
Everything you need to know about Protectumus and how it works
We are surrounded by the advanced level of technology and strong databases that are important for the majority of the people that belong to well-known companies. The set of information that is considered an important aspect of any company or workplace has a higher chance of getting hacked or breached. In such cases, the use of a website security software that is known as Protectumus is often used.
Protectumus has many features and benefits that enable users to protect and manage their websites. It is an effective and simple way of providing security based on modern logarithms that include Al and other machine learning processes.
The increasing hype of the software Protectumus is moving the minds of the users which is attracting them to discover more about it. Therefore, today we will discuss more the details and features of the Protectumus.
Protectumus: An insight into what is it?
It is a two-factor authentication platform that offers many services and features. This site offers multiple authentication-based uses that have joint needs with the standards of OATH. With the use of Protectumus, the users can easily look into the websites and manage them up to their needs. there are no restrictions when it comes to personalization or the rules that work internally.
Other aspects where Protectumus has known to develop positive key points is that they perform the attacks on a website or check for the user IP addresses as well.
To sum up we can say that Protectumus is a platform where the users can avail all the necessary and needed security checks or wants without going over the board. Moreover, the vast functions of the Protectumus offer search engine optimization services that include the removal of backlist and others.
Protectumus: How does it work?
It uses the double factor authentication processes for the confirmation of the user identity. This is a very good initiative since it acts as an extra layer of security and lowers the chances of hacking or the breaching of your information.
What are the features of the Protectumus?
of the highlighted and major features of the protectumus are mentioned below.
Removal of malware and virus
The basic feature that is considered to be a renowned feature of protectumus is the removal of any kind of malware or virus. This is an important feature that has helped the users with their websites to lower the chances of cyber-attacks and much more.
Once the malware is detected it is removed automatically. This whole process is done with the help of artificial intelligence and the machine learning procedure. Hence, there is no risk associated with such procedures.
Offers protection against hacking
The monitors that are used in the Protectumus are used for the auditing of the virus that is present inside the systems. The way this feature tends to work is quite simple. It generally is software that uses and scans visitors and can block the black bots which are labeled as bad. The hackers and the suspicious accounts have banned IPs which is a major step towards the hacking of major computer systems that is a very safe thing.
Increasing the speed of the website
Once you have this software on your website the configuration of the scripts begins and can be used the increasing the system's speed. After you enter the credentials of the FTP on your website the script will be added to the root part folder. On the space of the tab on your website, you may find the option for increasing speed.
By clicking on it you can go through the mentioned guide that allows you to increase speed. Once the configuration settings are completed there is a sudden boost in the speed up to 30 percent. Which is a very good ratio if we are concerned with the enhancing of speed.
Backup of websites and databases
Another important feature is counted as the secure backup of websites and databases, mobile apps and the set of information. This is a very beneficial step that helps to recover and keep the important credentials safe and sound. With the usage of such a feature, you will not be afraid to lose a track of the important files hence you can be free of stress.
Unlike, other similar platforms you cannot find such basic features with lower complexity levels. It is easy, simple, and has lower risks of bugs and viruses. Therefore, Protectumus is an ideal way of keeping your files safe and sound.
What are the services that are offered by Protectumus?
Some of the well-known and easy-to-access services for everyone are discussed in further detail below.
Repairing your web desktop and mobile applications
Protectumus claims to offer the best cleaning services that can clear out malware, bugs, or viruses. It is important to keep your system free of anti-virus. Also, this is done in a very short time.
Offers the audit system for security
Auditing for your security is quite important as sensitive data and files need to be monitored. Without it, the chances of getting hacked or breached by the inside or outside sources are much higher. Hence, to avoid such issues you can always rely on the auditing services that are offered by the website protecting software known as Protectumus.
The recognition of your data and other valuable assets is very important as well. Without it, you cannot differentiate between the sets of data that are free of malware and virus. Therefore, to be on the safer side prefer to opt for Protectumus.
It also makes sure that you have bad bots' protection. You will get help with security headers scan also. It will double check the headers of your site for any bad traffic etc. Iframes can damage your website security too. Protectumus will ensure iframe scanning also.
So, overall, you will feel protected if you use this excellent software and it can help your website perform well in search engines also with good loading speed.
Why is Protectumus considered to be unique?
1.      Well, countless things make Protectumus so unique and exclusive.
2.      The speed and time that it takes for the completion of certain tasks. It also focuses on monitoring the speed to see if a website speed is consistent or not. This feature helps in long term.
3.      You can survey other website-protecting platforms and compare that the majority of them have a lower speed and takes a greater time.
4.      You can also notice that Protectumus has a lot to offer when it comes to selection and a good level of variability. It is secure and your privacy is enhanced.
5.      It provides anti hack protection to your websites. It scans the users and potential bots visiting your website for hacking purposes. It uses SQL injections and other secure scripts to protect your website from any fishy attack.
Final Remarks
Protectumus is a freemium Software as a Service (SaaS) website securing software. Here you can discover a lot of ways by the help of which you can boost and protect your website, content, and other private credentials. It is fast, secure, easy to use, and ideal for remote working as well.
You can give Protectumus a try by going to the free website security scanner tool.