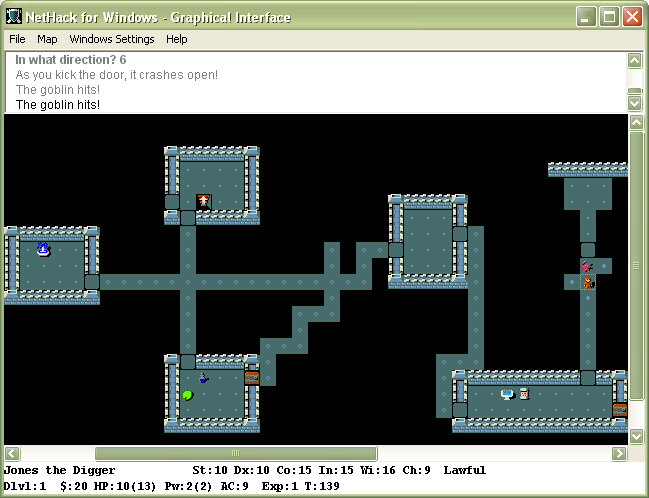 NetHack is one of the all-time top 100 video games. That's how the Time magazine named an article back in 2012. Today the NetHack devteam is happy to announce the release of NetHack 3.6.
What is NetHack?
According to wikipedia, "NetHack is a single-player roguelike video game originally released in 1987 with ASCII graphics. It is a descendant of an earlier game called Hack (1985), which is a descendant of Rogue (1980)."
How NetHack works?
Each NetHack game presents a different landscape: the random number generator provides an essentially unlimited number of variations of the dungeon and its denizens to be discovered by the player in one of a number of characters: you can pick your race, your role, and your gender.
What's new since the last version of Net Hack?
A number of significant changes were derived from UnNetHack, NetHack 4 and other variants, such as:

Roderick Schertler's pickup_thrown patch
Extensions of Malcolm Ryan's Statue Glyphs patch for tty and tiles
Extensions of the Paranoid_Quit patch
Extensions of the Dungeon Overview
Aardvark Joe's Extended Logfile
Michael Deutschmann's use_darkgray patch
Clive Crous' dark_room patch
Jeroen Demeyer and Jukka Lahtinen sortloot patch
Stefano Busti's Auto open doors patch
Source – nethack.org
Bonus
One of the biggest changes is a tribute to Terry Pratchett. Sir Terence David John "Terry" Pratchett, OBE was an English author of fantasy novels, especially comical works. He is best known for his Discworld series of 41 novels.
As some may know, Terry Pratchett was a fan of NetHack, dating back to the time that we introduced the Tourist class which was openly based on the Discworld novels he penned.

At the time of his passing this year, the DevTeam decided that it would be a fitting tribute to take a number of our favourite quotes from the various Discworld novels and incorporate them into the game. Being the way we are, we did a little more than that. There are now a huge number of quotes from many of the Discworld novels in the tribute file, but this doesn't mean that we wouldn't accept new submissions from other Pratchett fans.
Happy NetHacking!