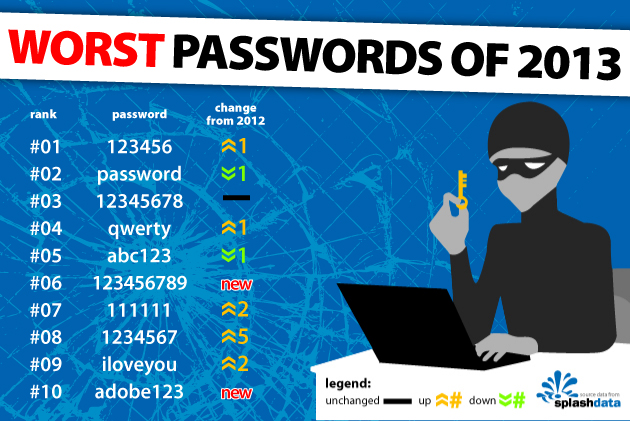 The password "123456" was the most commonly used password of 2013, according to research conducted by SplashData, quoted by La Vangurdia. It is also the most insecure password that a user can have, say sources cited.
The following positions are occupied all sequential combinations such as "password", "12345678", "qwerty" and "abc123".
SplashData has also explained that this year's list shows that when we have account on a particular site, we  should not include the site name in the password. And this is proved by what happened when Adobe accounts of nearly three million users were broken. A large number of passwords contained the word "adobe".
In the establishment of the weakest top 25 keywords in 2013, SplashData have relied on archives with millions of passwords stolen and made public last year. They also recommended, to change passwords if they resemble those included in the following top:
| | | |
| --- | --- | --- |
| Rank | Password | Change from 2012 |
| 1 | 123456 | Up 1 |
| 2 | password | Down 1 |
| 3 | 12345678 | Unchanged |
| 4 | qwerty | Up 1 |
| 5 | abc123 | Down 1 |
| 6 | 123456789 | New |
| 7 | 111111 | Up 2 |
| 8 | 1234567 | Up 5 |
| 9 | iloveyou | Up 2 |
| 10 | adobe123 | New |
| 11 | 123123 | Up 5 |
| 12 | admin | New |
| 13 | 1234567890 | New |
| 14 | letmein | Down 7 |
| 15 | photoshop | New |
| 16 | 1234 | New |
| 17 | monkey | Down 11 |
| 18 | shadow | Unchanged |
| 19 | sunshine | Down 5 |
| 20 | 12345 | New |
| 21 | password1 | Up 4 |
| 22 | princess | New |
| 23 | azerty | New |
| 24 | trustno1 | Down 12 |
| 25 | 000000 | New |