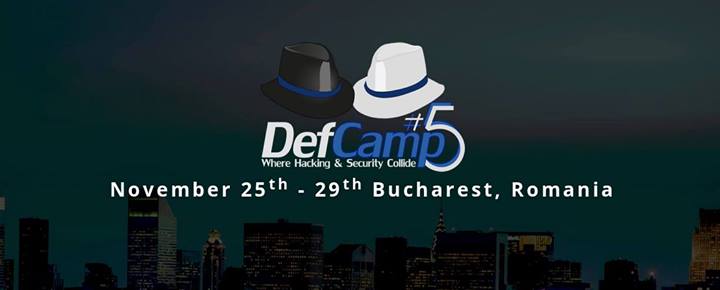 DefCamp 5 is organized between November 25 to 29 at the Crystal Palace Ballroom, in Bucharest, Romania. Center for Research in Security Informatics Romania – CCSIR presents the event for hacking and information security in Central and Eastern Europe, DefCamp.
DefCamp 2014 is by far the largest event in the field of computer security and hacking in Romania, and one of the largest in Central and Eastern Europe. There are expected over 600 participants from Romania and neighboring countries, participants with varied levels of experience, from students to security research and hacking experts.
Among the confirmed speakers we can find Mika Lauhde Vice President, Government Relations and Business Development – SSH Communications Security and Paul de Souza, Director of Cyber ​​Security Forum Initiative (CSFI).
Among the major activities this year include:
DefCamp Capture The Flag (D-CTF)
Free Pentest on Demand
Target John
Hack The Machine
App2Own
There are a few workshops where everyone can attend:
Introduction to Cyber Warfare and Operations Design – details here
Open Source Intelligence – OSINT Training – details here
Digital Forensics Training – details here
A few testimonials regarding DefCamp:
Paul de Souza:
Romania's National Cyber Security Strategy has a clear focus on a high degree of resilience and confidence. The Defcamp conference in Bucharest, Romania, brings together brilliant minds from the regional cyber security communities with a focus on how to create the appropriate synergy and learning environment where the audience can collaborate, learn, and integrate capabilities in support of Romania's cyber security efforts to create a safer cyberspace for all. Romania's GDP growth has a positive outlook with a steady growth rate, making Romania an attractive country for technology investors.
Gabriel Mihai Tanase:
Gathering both Romanian and foreign speakers, the conference provided various IT Security topics, all technical, without commercials, opportunities to learn from valuable presentations, some going beyond theory and detailing real situations developed from completed projects. I highly recommend this conference!
For more details, please visit the Official DefCamp Website.
There is also an event created on Facebook here.