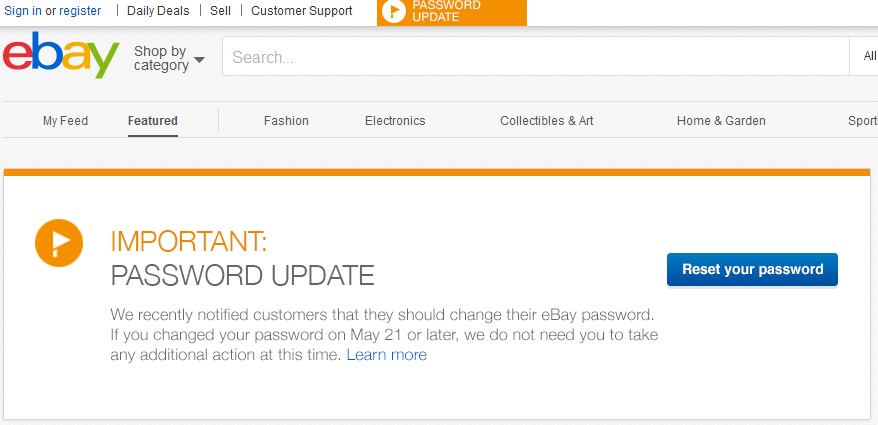 There are 5 days since eBay was hacked after a massive cyber attack. This attack compromised a large number of users' personal information. Ebay is one of the world's largest online marketplaces, they claimed 128 million active users worldwide.
The group, which also owns PayPal website claimed that there's "no evidence" that the hackers had access to financial information about bank cards or that they had committed any illegal activities on its website.
Hackers have managed to recover the authentication details of a "small number" of employees, which gave access to the enterprise network, explained eBay. They have penetrated a database that includes personal information about customers such as names, passwords, physical addresses and e-mail, phone numbers and date of birth.
Attorney General Pam Bondi noted:
the magnitude of the reported eBay data breach could be of historic proportions,
adding that her office was joining the investigation which may have affected, in total, 145 million users.
Ebay team posted an article on it's blog regarding this data breach:
Cyberattackers compromised a small number of employee log-in credentials, allowing unauthorized access to eBay's corporate network, the company said. Working with law enforcement and leading security experts, the company is aggressively investigating the matter and applying the best forensics tools and practices to protect customers.

PayPal data is stored separately on a secure network, and all PayPal financial information is encrypted.
Read more on the Ebay Blog
The reason why I posted this article is that people should know that this is so serious, there ain't an official answer regarding how many accounts have been hacked, but the image you see above was taken today (after five days). And this says a lot regarding the cyber attack suffered by eBay. So, if you have an account on eBay, please change your password.