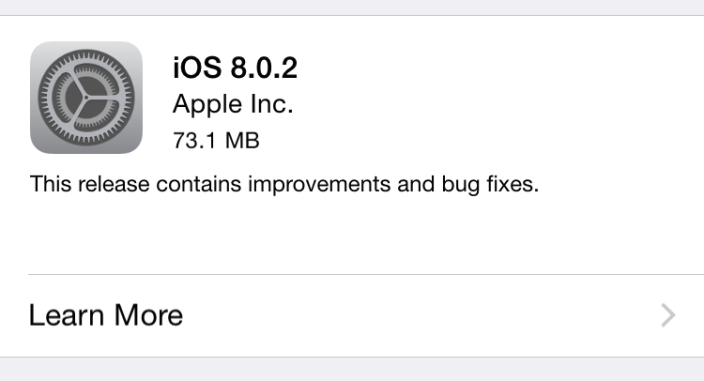 The latest version of iOS fix bugs and security issues discovered after the release of patch previously
The last but one patch released by Apple, iOS 8.0.1, brought more problems than fixes for users of iPhone or iPad. Less than 24 hours after withdrawal, Apple unveiled iOS 8.0.2 update.
The main problem, lack of signal from the iPhone 6 has been solved now.   The previous Update affected over 40,000 of devices Apple, and many chose to downgrade to iOS 8  or even to iOS 7.1.2. Users can now benefit Healthkit service for monitoring of vital functions. Restriction was lifted Health applications and developers now have access to the information taken from sensors.
iOS 8.0.2 Fixed a bug that made the disappearance of 3rd party keyboards when it asked password. The patch improves functions Reachability and Family Sharing, but also solve the problem of inability to upload pictures or videos using Safari browser.
Although dozen of thousands of users of iPhone 6 complained of problems caused by iOS 8.0.1, many are wondering which was the real reason for its sudden withdrawal. There are rumors that the real reason was the coverage of serious breaches of security, which is partly related to recent attacks and brute-force that has undergone iCloud service, although it's not been confirmed by Apple officials.
Here you can see what contain this new release:
Fixes an issue in iOS 8.0.1 that impacted cellular network connectivity and Touch ID on iPhone 6 and iPhone 6 Plus
Fixes a bug so HealthKit apps can now be made available on the App Store
Addresses an issue where 3rd party keyboards could become deselected when a user enters their passcode
Fixes an issue that prevented some apps from accessing photos from the Photo Library
Improves the reliability of the Reachability feature on iPhone 6 and iPhone 6 Plus
Fixes an issue that could cause unexpected cellular data usage when receiving SMS/MMS messages
Better support of Ask To Buy for Family Sharing for In-App Purchases
Fixes an issue where ringtones were sometimes not restored from iCloud backups
Fixes a bug that prevented uploading photos and videos from Safari
Full support from Apple !